Index
Rodziny w Polsce
Rodzina w Białymstoku
w Polsce!


Index of
Polish Family
Jendrzejewski
Family
18th-19th
Centuries:

Jendrzejewski Surname

Family Nest: Lopacin Parish

Michal

Bartlomiej

Piotr Pawel

Jakob

Walenty


Missing
20th Century
Jendrzejewski
Descendents
20th Century:

Stephania Mieszkowska
Family in Warsaw, Pl
Coming


Maruszewski
Family
17th-19th
Centuries:

Family Nest: Sonsk Parish

Early Family
Coming

Rogala Clan
Coming


Missing
20th Century
Maruszewski
Descendents:

Albina's Family
in Warsaw, Pl
Coming

Clues from
a Scrap of Paper

Adam Bastek Family

in Bialystok, Pl (English

Emilya Tulska's
Family in Warsaw, Pl


Maria Fraczkowska's
Family in Zielonka
k/Warsawa, Pl
Coming

Wozniak
Family in Zielonka
k/Warsawa, Pl
Coming

Wincenty Maruszewski's
Family in Warsaw, Pl
Coming


Other Polish Links:

Polish Links
Coming


My Other Pages:

My Greek Family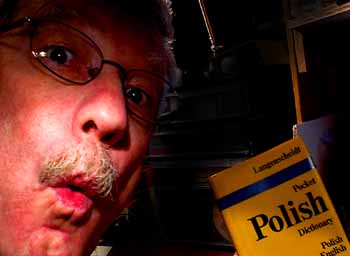 Introduction

Hi! Iím Andy Jendrzejewski. Welcome to the story of the Polish side of my family.

I have been tracing the Polish roots back to the Ciechanow District of Mazovia in central Poland, which is just northwest of Warsaw about 35 miles. I have researched the surnames of both my grandfather Walenty Jendrzejewski and grandmother Albina Maruszewska: I traced most of the Jendrzejewski records through the LDS Church's Family History Center to the Lopacin Parish in the villages Nowa Wies, Gutkow and Radziwiloborz. I traced most of the Maruszewski records the same way to the Sonsk Parish in the villages of Marusy, Gasocin and others. Michael Marciniak, a researcher in Poland, also found many records, and interestingly, copies of records, that clarified a number of problems due to mistakes found in the records provided by the Family History Centers.
Polish research has been unexpectedly easy. Few records seem impossible to get for the region that I am researching. This is amazing, since this region had been under the control of the Soviets, the Nazi Regime, the Russian Empire, the French Army led by Napoleon, and the Prussian Empire. It has also faced invasion by the Swedes. Yet ancient records exist through the heroic efforts of the Catholic Church, the quest for control by the occupying countries and the heroism of individuals who struggled to keep the consciousness of Poland and things Polish alive. Russia was particularly cruel, obliterating even the official use of the Polish language. I find records written in Polish one day in 1862; the next day I find records written in Russian. From the end of the 18th century, to the Great War, Poland was not even a country on the map, but the resilience of the Polish people preserved the Polish consciousness. Shortly after Soviet domination now, there is a huge effort to recover Polish history and culture that was so sternly obliterated and distorted through Nazi and Soviet occupation throughout most of the twentieth century.
I remember my Polish grandparents as severe, hardworking and profoundly sad. My research was inspired by my curiosity about this state of being, to find its roots and my wish to find peace for my father, John. I never did before he died, April 2, 2003. He died at peace, anyway, with his wife Julia and his daughter Kathy through an almost global rejection of his familial past and the pain it brought to him. I have learned from my research that this is common among Polish immigrants who struggled with the tension between village life in the old country and the new social order of capitalism that challenged those values in the United States. In fact, this is typical with many immigrants, who fled poverty and oppression for a new life. Yet, my father was always seemed proud to be Polish. With others this Polish pride reconnects them with their roots. For me the experience of my father, and his father, and his father, etcetera continues to beg questions about our Polish past. It is a past that is marked by beauty and honor, as well as sorrow and oppression.
I have been unable to work on these pages since the loss of my father, for both practical and emotional reasons. I had lost control of these pages for a time and have now regained interest in catching up! I have been to Poland and have made many contacts who have sought me out through these pages. I have discovered family my father didn't know, found the graves of my great grandfather, found people who still knew my grandfather from his visit back to Poland in the 1960s. I hope now to peck away with my impressions of having visited Poland and update these pages.
On these pages of my families, I have tried to summarize what I know about my family's heritage weaving relevant highlights of general history for the region of Mazovia in order to gain perspective about the people that I am trying to describe. Enjoy them and please feel free to send me comments, criticisms and suggestions that will help me to create a sharper, more accurate and more interesting study. This work has already excited other members in the family, who now share their knowledge and impressions of our common history. My email address is at the bottom of all my pages.